Gain Addigy skills anywhere in the world with official online Addigy training.
Get Addigy Certified Expert (ACE) certified from your home or office.
Why Take Online Addigy Training?
Are you unable to come to our London training centre?
Do you want to save on travel and accommodation costs?
Do your technicians need the benefits of ACE certification?
If you said "Yes" to these questions, then online Addigy training is the perfect fit.
Using video conferencing software, our trainers achieve the same level of interaction as in our classroom-based training.
All you need to get started is a laptop with a webcam and microphone.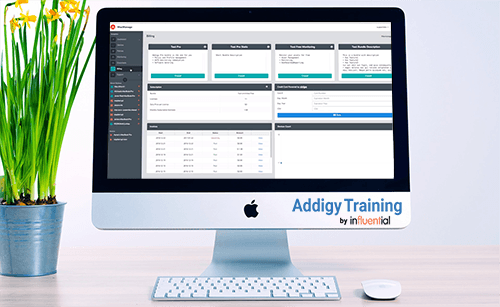 Online Addigy Course Details
The online Addigy Certified Expert (ACE) course provides complete training in Addigy Apple device management (macOS, iOS, iPadOS, and tvOS). Starting from the basics, the course will carry delegates to an advanced level of expertise.
On the final day of training, students will take a two-hour multiple-choice exam, which can be retaken. The ACE certification expires two years after the exam is passed.
By the end of this online, trainer-led course, you will be familiar with:
Addigy platform navigation

Device and user enrollment methods and tools

Device management workflows, configurations and best practices

Apple ecosystem terminology and programs

Automation, basic scripting and remediation strategies

Working with the Apple and Addigy community
Introduction to Addigy and Addigy Device Management at a Glance
Explore Addigy company overview, platform navigation and instructions on how to create users and update account settings. Leveraging and contribut- ing to the Addigy Community. Apple, Addigy and ecosystem terminology and acronyms.
Enrolling Apple Devices in Addigy
Understand the Addigy device enrollment process and Apple enrollment methods – including Apple User Approved MDM requirements, Apple Auto- mated Device Enrollment (previously DEP) through Apple Business Man- ager/Apple School Manager, Apple Supervised Mode, implications of Device Supervision and related Apple and Addigy workflows allowed via Addigy's agent and MDM. (LAB)
Building Scalable Policies & Assessing Device States
Define device states, create policies, policy inheritance, policy catalog, and best practices of policy layouts. Enforcement of MDM configuration profiles. (LAB)
GoLive and Devices at a Glance
Understand how to quickly find information for individual devices. Create views and use filters for better insight into managed Apple devices. Explore how to use the Scripts section on the Devices page. Understand the tools available in GoLive and Remote Control integrations
Defining Device States, Software Deployment and Patching
Configure installs of custom software packages and public software from the Addigy policy catalog. (LAB)
Deploying App Store content with Apps & Books (previously VPP)
Explore how to configure Apple Apps & Books integration with Addigy, how to deploy App Store apps via Addigy policies, and viewing Apple Apps & Books assets in Addigy.
Defining Device States with MDM Configuration
Learn about Addigy's Apple MDM configurations, custom MDM profiles, Apple privacy controls, requirements and limitations.
Monitoring Device Compliance with Alerts and Remediation
Review Addigy Facts and Alerts, creating & customizing Monitoring items, resolving & remediating Alerts, and optional ticketing integration with alerts.
Advanced Software Deployment, Custom Facts, and Scripts
Understand best practices and a deeper discussion on condition scripting in Custom Software, removal scripting in Custom Software, building Custom Facts, and remediation scripting within Addigy Alerts.
Resources
ACE Training Guide

Addigy Getting Started Guide
Although there are no firm prerequisites for this course, it's recommended that delegates have:

iOS and macOS familiarity

basic iOS device and Mac computer navigation skills
Want to learn more about this course? Click below to download a detailed pdf.
Spread the cost of Addigy training
Prefer to spread out your Addigy course payment?
No problem — just select the "Payl8r" option in our online shop.
See eligibility details
Online Addigy Training Dates
Classroom Training
Classroom training takes place at our state-of-the-art classrooms near Blackfriars and St Paul's in central London.
On-Site Training
We are unable to provide on-site training at present due to the COVID-19 pandemic. Our private Addigy training will be available once the UK travel restrictions are lifted.
Book an Addigy training course
Fill out the form to request a course or tell us your training requirements.
Our sales team will reply to take your payment and complete your booking.